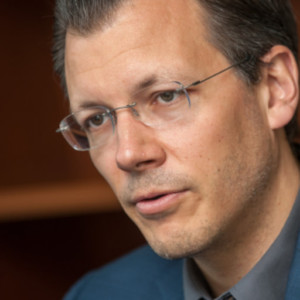 L'invité du mois.
Ulrich BINDSEIL, Directeur Général Market Infrastructure & Payments de la BCE, a présenté sa vision sur « The future of payments in Europe » lors de la réunion mensuelle FPF du 19 novembre 2020. Il a évoqué successivement : le marché européen des paiements de détail ; la stratégie de l'Eurosystème, la réponse du marché et l'appui que la BCE peut y apporter ; les travaux de l'Eurosystème sur le digital euro et la consultation en cours. Il a également évoqué l'incident TARGET2 du 23 octobre 2020. À l'issue de son exposé, Ulrich BINDSEIL a répondu aux questions des participants.
Lire les slides de l'intervention d'Ulrich BINDSEIL : FPF_Pleniere_19-11-2020_Slides_Ulrich_BINDSEIL
Synthèse des réponses d'Ulrich Bindseil, DG de la Direction générale Infrastructure de marché et paiements de la Banque Centrale Européenne aux questions des participants, lors de la plénière du 19 novembre 2020.
Question d'Hervé Sitruk sur le soutien que BCE peut apporter au projet EPI 
Ulrich Bindseil : First, we can (and did) contribute to the pan-european reachability of instant payments, which the EPI is relying on. Second, we can support EPI by endorsing it fulfilling the criteria of the Eurosystem's retail payment strategy – the only initiative so far ticking all the boxes. Third, we are ready to help EPI to explore how to achieve more country participation. It is clear that French banks were very committed to EPI from the beginning, which is very much appreciated. But other countries see it from a different angle, with different starting points (their technology, their card scheme…).There is a lot to work on, we can try to understand what the issues are. By having officially endorsed EPI as fulfilling the criteria of our strategy, we can be of help.
I understand that an important point for EPI is the business case, i.e. whether the investments can have a sufficient return. The ECB is not the competition authority: we can only say we would assume that EPI will lead to more competition and that through more competition and better technology, it will bring value added to consumers and contribute to lower the cost of payments.
Questions de Charles de Maleville (Worldline) sur l'euro digital (dialogue avec l'industrie  et  expérimentations)
Ulrich Bindseil: together with the launch of the public consultation, we mentioned the industry dialogue. We are happy to engage with associations of the financial industry and answer questions. Today's event is a good example. It is relatively general, but there is the possibility to have dedicated meetings like this one, to go deeper into CBDC questions.
Regarding the experimentations, there are different workflows led by National Central Banks (NCBs). But the time-horizon of those experimentations is only half a year, because in summer 2021, maybe the Governing Council of the ECB would decide on a project. A project would mean that the money is spent to prepare to become able to issue a digital euro. A project would mean specification of the user requirements, selection of the technical solutions and development work.  By contrast, the planned experimentations over the next six months are more small-scale, focusing on different technical elements of CBDC (like the front-end or the back-end solutions), but they cannot be totally comprehensive.
One big question in that respect is account-based versus bearer-based (or token-based), which points to off-line payment functionalities. Off-line payments is something that some people believe is important because it is close to banknotes. But with off-line, how do you ensure AML compliance? So, there will be experimentation on off-line. There will also be experimentation on the use of TIPS. But again, in six months you cannot experiment on everything.
Question de Pierre-Antoine Vacheron sur la compatibilité des diverses initiatives en cours
Ulrich Bindseil: Payments is a network activity. The consumers and the industry may collectively end up with one or the other solution. It is very difficult to predict. It is easier to say what we hope for. We hope for an increased market share for European solutions such as EPI.
For CBDC, it is difficult to predict. If a CBDC would be issued, we would like it to be used significantly, but in the sense of not crowding out the private sector. Currently, we have in the euro area at the point-of-sale 75% of cash (in volume) and 25% of card-related payments. CBDC could take a part of this while EPI should also take a growing share and have a bigger market share than the existing national solutions (which have lost market shares over the past years). But again, this is a vision, not a prediction.
Question d'Hervé Sitruk sur les « economic issues » soulevées par la MDBC et sur les caractéristiques d'une MDBC
Ulrich Bindseil: the economic issues raised by CBDC, are: preventing bank disintermediation, preventing that CBDC facilitates bank runs and preventing that it undermines the potential of the central bank to do negative interest rates policies. Those issues can be solved.
You mentioned advanced functionalities like smart contracts. While we are open, we believe we should also make sure that we do not overload the project with bringing in all innovations that you can imagine and that the private industry has not necessarily delivered yet. We want to contain the project risk. My view is that we should have at the beginning a product which allows for payments of consumers at the point-of-interaction (POI) and person-to person payments. For everything else, we are open to it and to provide the interfaces that the industry can build on, but I also take it very humbly, from a project perspective, that we should be prudent and not promise now that we will offer ourselves a smart contract / programmable digital euro from the outset.